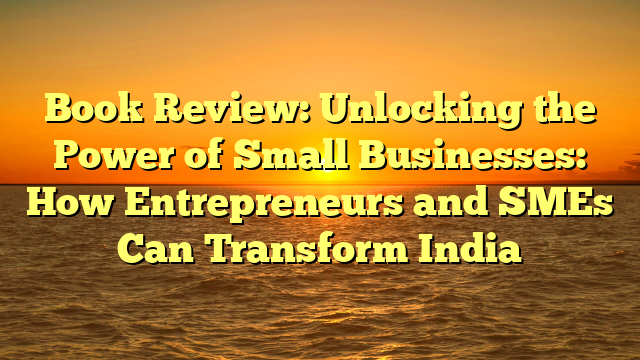 Unlocking Business Potential: Opportunities for Entrepreneurs and SMEs
Author: Dr Perumal Koshy
In this book, Unlocking Business Potential: Opportunities for Entrepreneurs and SMEs, the author provides a comprehensive and insightful overview of the business landscape in India, with a focus on the opportunities and challenges faced by entrepreneurs and small and medium-sized enterprises (SMEs).
The book begins by tracing the evolution of India's business landscape, from the pre-independence era to the present day. It highlights the key challenges that have faced Indian businesses over the years, such as bureaucratic red tape, corruption, and a lack of infrastructure. However, it also emphasizes the transformative economic reforms that have been implemented in recent decades, which have made it much easier for businesses to start and grow in India.
The book then goes on to explore the various ways in which entrepreneurs and SMEs can support rural communities and promote sustainable practices while contributing to the global Sustainable Development Goals. It also discusses the impact of the Fourth Industrial Revolution and the role of digital transformation in shaping the future of business in India.
One of the key strengths of the book is its focus on providing actionable insights for aspiring entrepreneurs. It highlights key sectors and markets that are ripe for growth, and provides case studies of successful entrepreneurs who have overcome the odds to achieve success.
Key takeaways
Here are some of the key takeaways from Unlocking Business Potential:
India's business landscape has transformed in recent decades, making it much easier for businesses to start and grow.
Entrepreneurs and SMEs can play a vital role in supporting rural communities and promoting sustainable practices in India.
The Fourth Industrial Revolution is having a profound impact on businesses of all sizes, and digital transformation is essential for businesses to remain competitive.
There are many key sectors and markets in India that are ripe for growth, such as agribusiness, healthcare, and education.
Order from Amazon and other platforms:
Unlocking Business Potential is an essential resource for entrepreneurs and SMEs in India. It provides a comprehensive overview of the business landscape, highlights the key opportunities and challenges, and offers actionable insights for achieving success.
For aspiring entrepreneurs, the book is a must-read. It provides a roadmap for navigating the challenges of the Indian business landscape and unlocking the full potential of your business.