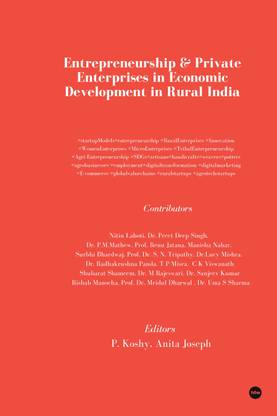 This book encapsulates the potential and opportunities with[1]in Rural India, particularly the small enterprises and the pri[1]vate sector. The papers and essays that are covered here include start-up scenarios, SMEs, farm economics, entrepreneurship and en[1]terprise policy aspects, sustainable development goals(SDGs) and rural economy, to mention a few.
There are also sector specific studies on handicraft and Chikankari embroidery en[1]terprises, women entrepreneurs of Kashmir valley and tribal entrepreneurship. Rural tourism, skill development and digi[1]tal marketing are some other areas that are covered. The crux of this book is that rural enterprises and business ventures are quickly getting transformed, modernized and evolving to the needs of the global market and customers.
As they grow, they contribute in the fight to poverty, creat[1]ing green jobs and acting as a cultural link of real India to the world. The book consists of 19 research articles/studies by an eclectic set of authors from across India. The book also contains select case studies of rural enterprises, agro-farm business ventures and some of the emerging digital plat[1]forms and agro-tech startups.
The book is available for ordering online in all the platforms, from where the print version as well as digital version can be ordered.