Enhancing the income of farmer households is crucial for improving their living standards, welfare, providing quality education for their children, reduce agrarian distress and bring parity between income of farmers and those working in non-agricultural professions. A significant growth in farmer income is crucial for Indian farmers, given the detrimental effects of low and fluctuating farm income. To address these challenges, governments have taken various measures. One notable strategy receiving attention is the agenda of doubling farmer income (DFI). The Inter-Ministerial Committee's recommendations focus on recognizing agriculture as a value-led enterprise(NITI policy paper No.1/2017).
Given the possibilities and market potentials, tripling or quadrupling farmer income in the next couple of years, is not non-achievable or that ambitious a target. However, it is crucial to foster an agro-farmer friendly ecosystem. This ecosystem should prioritize involving farmers in decision-making processes, ensuring their active participation rather than relying solely on bureaucratic structures. The government's planned target to establish another two lakh Primary Agriculture societies, including dairy cooperative societies in every village is a game changer in this context.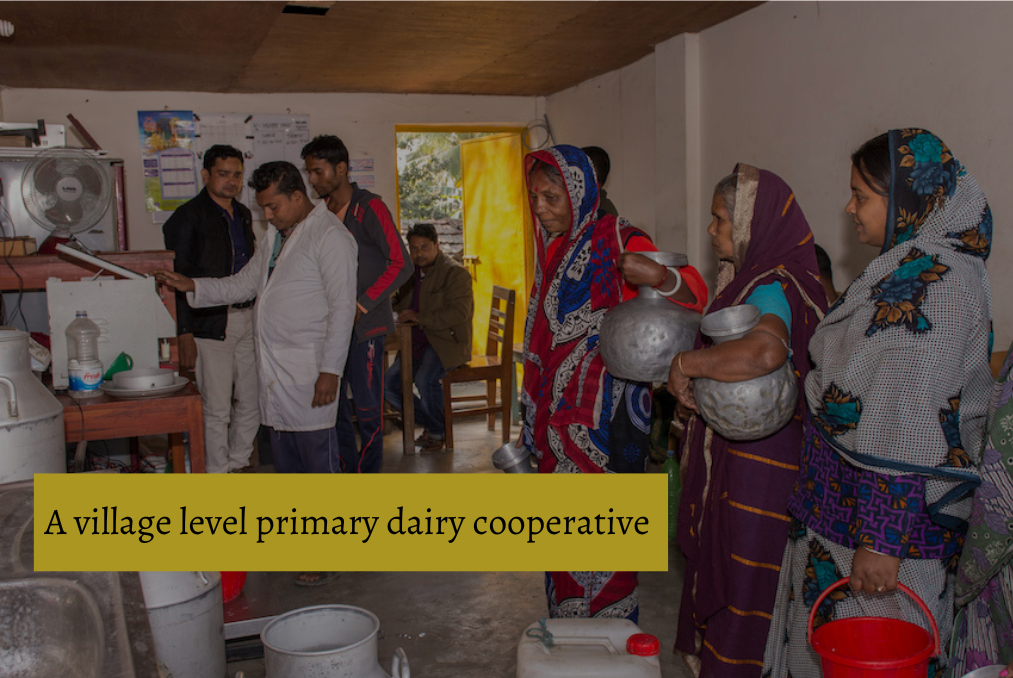 Case of Leela: Grass fed desi ghee
Leela, a widow from Kerala, shoulders the responsibility of caring for her family, which includes her three children, one is a college-going and other two unemployed due to disabilities. Together, they engage in organic farming, with a primary focus on dairy production. Leela's farming operation consists of 4 cows, including calves, and she relies on selling milk and dairy products as her main source of income.
Resourceful and mindful of local assets, Leela takes advantage of the abundant supply of grass found in nearby uncultivated paddy fields, in a central Travancore district of Kottayam, Kerala. This has allowed her to reduce her dependence on expensive cattle feed to a significant extent. Utilizing this locally available resource not only lowers her feed costs but also contributes to the unique qualities of her milk and dairy products. The organic ghee that Leela sells to non-residential Indians (NRIs) known for its distinct taste and aroma. Completely grass-fed, Leela's small farm is organic. Milk possesses exceptional quality, health benefits, and a delightful flavour. Unfortunately, Leela is not aware of the special qualities of Grass-fed cow's ghee that she sells. Organic grass fed-cow ghee market price on platforms like "Amazon India" & Flipakart, though varies, approximately INR 950 to INR 1000 for 500 grams, the local price remains at a significantly lower rate of INR 300 for the same quantity.
Despite her commitment to organic farming and her diligent efforts in sourcing grass from pesticide- and fertilizer-free paddy fields, Leela faces challenges in obtaining fair prices for her products and accessing markets.
Addressing these issues and empowering farmers like Leela requires a comprehensive approach that includes raising awareness about the value and quality of their products, providing market access and marketing support, and equipping them with the knowledge and skills necessary to navigate the digital marketplace. By doing so, India can unlock the potential of its diverse agricultural products, empower small-scale farmers, and enable them to realize fair prices for their goods, ultimately contributing to the overall growth and development of the agricultural sector. This will help them enhance their income several times. Beyond doubling farmer income, it will result in.
Debabrata Mondal, a sr. consultant with EY India, who has been involved in facilitating the establishment and strengthening of farmer producer organizations/companies (FPOs) highlights the crucial need to help farmers navigate the marketing process through e-ecommerce platforms and developing a pro-farmer ecosystem, involving a collaborative approach involving all the stakeholders such as FPOs, cooperatives and host of other institutions and NGOs. He says Indian farmers and agro-rural businesses offer a wide variety of unique products, but small and marginal farmers often lack awareness of the real market prices and the means to reaching out to the markets where consumers can afford to pay.
Cows and goats in agriculture economy: Farmer friendly institutions and dairy cooperatives
A noteworthy recommendation emerged during a discussion on agriculture sector in Wayanad, Malabar region-Kerala, organized by TS Study Centre in conjunction with Brahmagiri Development Society and Ooralunkal Labour Society, held during the COVID-19 lockdown,– moderated by Prof. Dr Jose George (Rtd), Mumbai University and Prof. Dr. R. Ramkumar, TISS, Mumbai, would be of relevance to revisit. This was related to the role of primary dairy cooperative societies. The suggestion called for transforming primary dairy societies at the village level into hubs for farmer-agriculture services, where the government can reach out to farmers with their services. According to the proponent of this idea, such an approach would not only simplify farmers' lives but also ensure that services effectively reach the real farmers. Making primary dairy societies central hubs for farmer-agriculture services. This would not only benefit farmers but also facilitate the government in efficiently delivering its services to the agricultural community. Making services available at a centralized location, adjacent to dairy farmer societies where they mostly congregate for various purposes may help farmers have easy access to services and a centralized space for marketing their produce, improving efficiency and convenience.
Farmer-Friendly Agriculture Support Ecosystem
By recognizing the importance of dairy cooperatives and promoting their collaboration with agriculture departments, India can harness the potential of these cooperatives to uplift farmers and enhance agricultural development.
In India, cows and goats play a central role in the farming activities, providing farmers with a regular source of income. Alongside poultry farming, whether on a small or medium scale, cow and goat farming proves to be lucrative. It is worth noting that India holds the distinction of being the largest milk producer globally, contributing a significant 23% share to the total global milk production.
Critical importance of village level primary dairy cooperatives has to emerge at the centre of farmer friendly eco-system. Unfortunately, the connection between dairy cooperatives and farmers is often overlooked. It is crucial to establish a collaborative strategy between agriculture departments and dairy cooperatives, considering the significant role of them in our economy. There are more than thirty state dairy cooperatives with a close around one lakh ninety thousand (199,182) primary dairy cooperative societies with around 1.5 crore members, are engaged in procurement of milk from the farmers, providing milk testing facilities, cattle feed sale, extension services, etc. to the members. Farmers frequently visit these primary dairy societies, making them the primary point of contact for farmers. In fact, farmers tend to have deeper dependence and interaction with these societies compared to the government's agriculture departments.
Reaching out to farmers: case of Goat Trust
The Goat Trust, an organization implementing innovative initiatives in livestock farming, has highlighted the importance of reaching out to farmers. It emphasizes that relying solely on a bureaucratic approach is insufficient to support the agriculture and farming sectors or create more job opportunities.
Goat Trust's focus on addressing farmer challenges within various sub-sectors by providing training to locally available farmers. For instance, Pashu Sakhi (Livestock Nurse) initiative, focuses on training semi-literate or illiterate women in structured classrooms and field practices. This program equips them with basic knowledge on improved livestock practices, preventative care, and herb-based home remedies at a low cost. As goat rearers themselves, these trained women actively disseminate their knowledge and skills within their villages, leading to improved livestock management, reduced mortality and morbidity rates, and overall better outcomes.
Community Livestock Manager program targets rural youth, both men and women, engaged in livestock farming. Through this program, they receive training to support Pashu Sakhis and establish linkages for input and output services. These individuals can then become livestock business entrepreneurs and service providers, eventually managing livestock business centers on a cost-recovery basis. This program empowers the youth to grow their businesses and contribute to the overall development of the livestock sector.
Strategies to multiply farmer income
Debabrata Mondal identifies following approach to effectively increase farmer income. Those key strategies include, "implementing collective marketing initiatives, reducing input costs through fertilizer subsidies, facilitating exports, establishing minimum support prices and government procurement mechanisms, fostering linkages with exporters, promoting crop cultivation based on market demand, and encouraging organic cultivation and branding". Its also important to shift to smart farming, as the way technology-intensive modern farms function. Smart farming is critical for making farming more sustainable and profitable. "Without high tech , the farmer breed will become extinct soon. And That's the only way farming can be made profitable, says Akhil, team leader at Agro-tech solutions, a Kerala based agro-tech solutions company.
To conclude, by implementing these strategies and leveraging the efforts of NGOs and other stakeholders, India can make significant progress towards doubling farmer income, uplifting rural livelihoods, and ensuring sustainable agricultural development. The successful implementation of these recommendations requires a comprehensive approach that includes policy support, infrastructure development, access to credit and technology, and capacity building for farmers. By holistically addressing these factors, India can achieve sustainable and significant improvements in farmers' income levels.